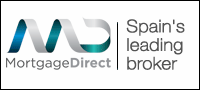 Arranging a Mortgage In Spain:
Arranging a mortgage in Spain is not the same as arranging one in your home country. As a foreigner buying a property, the product conditions are different, as are the criteria for qualifying for the mortgage. At Sunbreak Property Services, we recommend speaking to Mortgage Direct about your Spanish mortgage.
WHY USE MORTGAGE DIRECT?
- Independent mortgage advice for all nationalities 
- Mortgage quotes within 48 hours
- UK qualified professional advisers
- No obligation advice
- Leading mortgage broker in Spain (over 300 agents & property portals recommending them)
- Based in Spain and know the banking procedures inside and out
MORTGAGES AVAILABLE:
- Up to 70% of purchase price non-residents
- 80% of purchase price residents
- Mortgages for high-net-worth clients    
- Mortgages for Spanish limited companies   
- Construction, renovation & commercial mortgages 
THE PROCESS:
Initial no obligation assessment: Aim to send mortgage quote within 24-48 hours: If client wishes to proceed, the fee is €495, which comes with a Money Back Guarantee* Mortgage underwritten with appropriate supporting documents: Once approved, bank account opened and valuation instructed** Subject to acceptable valuation, completion can be arranged: Final fee paid to Mortgage Direct (0,5% of the amount borrowed, with minimum fee of €500) The process from start to finish usually takes 4 -8 weeks:
* Please note, if the mortgage is declined prior to valuation, the €495 is refunded ** Some banks may require the account to be opened before approval and a valuation to be carried out first, but very few.
Please click on the Mortgage Direct banner above for more information
Thank You
 BREXIT MORTGAGE UPDATE: